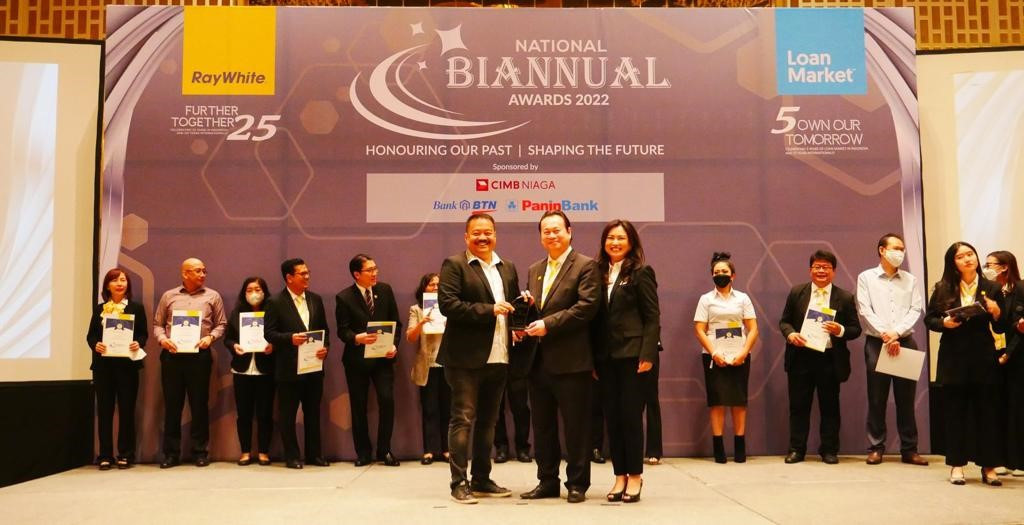 Ray White shows employee appreciation with 2022 Biannual Awards – Inforial
Inforial (The Jakarta Post)
Jakarta ●
Thu, September 15, 2022

2022-09-15
11:11
0
acb46bb3015c754a01ddf4e65a061fa8
4
Tooltip

Free

Ray White held its 2022 Biannual Awards in Jakarta on August 25, 2022 to express its gratitude to all marketing and branch managers for doing their best to achieve the greatest achievements in the first half of the year. The Australian company has become a household name with several local branches and is now known as one of the most trusted companies in the Indonesian real estate industry.
"This year, Ray White again won the Top Brand 2022 award [in] the Realtor category for the 10th consecutive year," said Johann Boyke Nurtanio, Country Manager for Ray White Indonesia.
"As a real estate company with 25 years of experience in Indonesia and 120 years in Australasia, we have been through so many triumphs as well as challenges and even crises. This shows a high level of public trust [in us]," he said.
Last year's regional awards ceremony was held in Surabaya, while the national awards were held in Jakarta. The semi-annual awards underscore the company's performance in maintaining stable sales despite the challenges of the past two years.
Some of the most prestigious award categories include Top 15 Offices, Top 3 Regional Offices, and Top 15 Commission-Based Marketing Managers. The top 15 offices went to Ray White Prestige Kelapa Gading, managed by Wilson Ho, while the first and second runners-up went to Ray White Sunter, managed by Anna Kurniawati, and Ray White Diponegoro, managed by Andy Suanda, respectively.
Meanwhile, Ray White Diponegoro led by Andy Suanda, as well as Ray White CBD Surabaya led by Tjipto Kaharudin, and Ray White Sutami led by Fransisca Maria, received Top 3 regional offices.
Ray White's top 15 commission-based marketing executives went to winner Felix Budy of Ray White Commercial, while Ardy Sutanto of Ray White Citraland and Lily of Ray White Sunter took second and third place respectively.
"Congratulations to the principals for succeeding in being good leaders who inspire their team and who are able to adapt to change. Now is the time to show the world who you really are and the values ​​you stand for. Keep developing your focus, creativity and courage," Johann said as he celebrated the winners.
"We believe that customer experience can only be delivered consistently when the whole team is engaged. And the whole team can only be engaged through strong leadership at different levels. Thus, the value of our customer experience is a reflection of [our] leadership qualities," he added, noting how proud he was of the company's achievements in the first half of 2022.
Ray White's sister company, Loan Market Indonesia, followed up the biannual awards with its own awards ceremony. Established in 2014, the company is the leading loan broker in Indonesia and has been registered with the Financial Services Authority (OJK) since 2019.
In addition to appreciating and motivating its employees through the semi-annual awards, Ray White maintains a strong commitment to professional development, enabling its marketing managers to continue to develop their skills in the real estate sector through training workshops organized regularly.
It also offers its employees technological innovations, such as a personalized mobile application, to help them perform at their best.
Last year, Ray White launched Mobile Whiteboard as a single internal communications platform, featuring menus such as Business Solutions, Brand Central, Awards and Recognition, Events and News, as well as training materials. It has also provided the One System feature upgrade which can automatically convert photos from all lists to slideshow videos. Meanwhile, it successfully launched a new customer relationship management (CRM) platform called VaultRE, which is more sophisticated than its predecessor.
"Real estate agents will not be replaced by technology. However, real estate agents will be replaced by tech-savvy real estate agents," Johann pointed out.
The Ray White Biannual Awards 2022 were sponsored by trusted partners Bank CIMB Niaga, Bank BTN and Bank Panin. Since entering Indonesia in 1997, Ray White has built a network of 175 branches in 25 major cities in 17 provinces, where its 5,000 marketing managers provide excellent service.