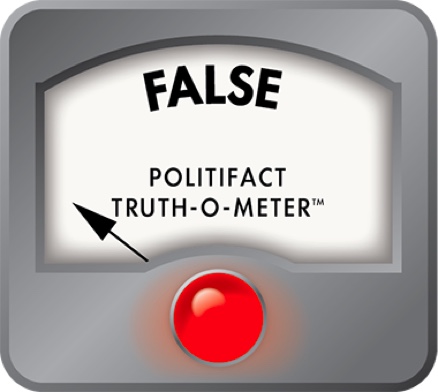 No Evidence Ukrainian President Zelenskyy Owns $35 Million Florida Home
A Facebook post shared false claims about Ukrainian President Volodymyr Zelenskyy, including the allegation that he owns a $35 million Florida home.
the Article from April 17 was shared by Nicolas Tetrault, a former Canadian politician, and features a TikTok video of a screenshot from another social media post.
"The President of Ukraine owns a $35 million house in Florida and has $1.2 billion in [an] overseas bank account," the TikTok video reads. "Zelenskyy owns 15 homes, three private planes, and has a monthly income of $11 million."
The message implies that Zelenskyy embezzled Ukrainian aid money to buy the houses and planes.
In a caption to the video, Tetrault echoed the sentiments of the post and also incorrectly claimed that Zelenskyy was the cousin of billionaire philanthropist George Soros – whom PolitiFact listed Pants on Fire.
Tetrault's post has since been deleted, but it is a claim that circulating on social networks.
The post was flagged as part of Facebook's efforts to combat fake news and misinformation on its News Feed. (Learn more about our partnership with facebook.)
The video provides no evidence to back up his claims and the TikTok account that shared it no longer exists.
The first mention of the claim that we could find on the internet was from a post on February 23, 2022, on a website called EPrimeFeed. The site appears to only publish articles written by anonymous authors, and the claim was published the day before The Russian invasion of Ukraine.
The post only cites the Nezygar channel on the Telegram messaging app as the source of the claim and offers no other evidence to substantiate the allegation. A 2018 investigation by investigative journalism site Proekt revealed that the Nezygar channel was controlled by the Russian government.
Tetrault seemed to provide context in his article by mentioning the Panama Papers and citing an unnamed source on Zelenskyy's use of offshore companies.
the Panama papers were a series of documents made public in 2016 by offshore law firm Mossack Fonseca. Newspapers detailed how the rich and powerful could hide their money and evade taxes.
However, Zelenskyy was not named in the Panama Papers and the anonymous source used by Tetrault was from a investigation conducted by the Organized Crime and Corruption Reporting Project, or OCCRP, on the Pandora's Papers.
Similar to the Panama Papers but more far-reaching, the Pandora Papers were a wealth of financial documents made public in 2021 that described how wealthy individuals used offshore tax havens and, in some cases, money laundering to hide their assets.
Newspapers revealed that Zelenskyy and several of his allies oversaw several offshore companies that were set up as early as 2012, OCCRP reported.
The companies have been used over the years by people close to Zelenskyy to buy several expensive properties in London.
The Pandora Papers don't reveal how much money the offshore companies held, and there's no mention of a $35 million Florida home, private planes, or Zelenskyy having an $11 million monthly income. dollars. However, the documents revealed some of its strengths included three offshore companies, property and cars.
An internet search of property records in florida returned no results for anything related to Zelenskyy or the offshore companies named in the Pandora Papers. We couldn't find Zelenskyy's name on any deed or mortgage register.
Our decision
A now-deleted Facebook post shared the claim that Ukrainian President Zelenskyy owned a $35 million Florida home among several other assets.
The allegation appears to come from a Russian-backed source, and no other corroborating evidence for the allegation could be found.
Although leaked financial documents showed Zelenskyy owned several offshore companies and other assets such as cars and property, they made no mention of a Florida home.
We rate this claim as false.