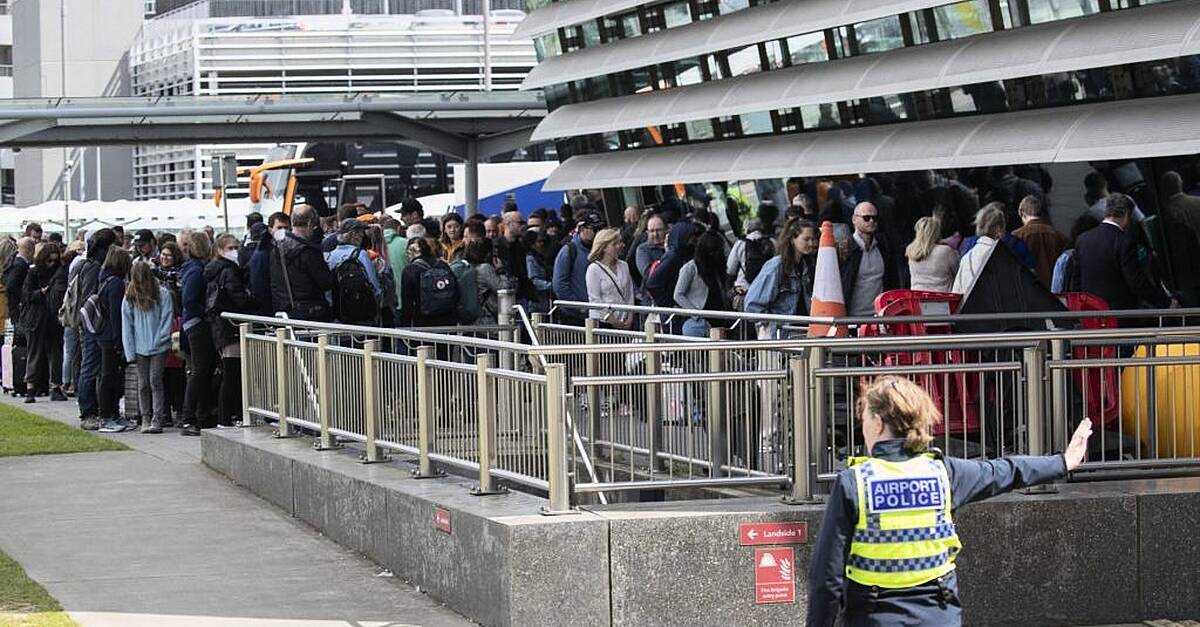 DAA outlines plans to improve passenger experience at Dublin Airport
Updated at 14:33
The DAA, the operators of Dublin Airport, have outlined plans to improve the passenger experience after chaotic scenes unfolded over the weekend.
DAA Chief Executive Dalton Philips and members of his senior management team met with Transport Minister Eamon Ryan and Minister of State for International Transport Hildegarde Naughton this morning.
They devised a plan to improve queue management; maximize the availability of personnel resources and increase the number of security lanes open during peak hours.
They briefed government ministers on how Dublin Airport intends to also compensate passengers who missed flights last weekend.
The DAA said it is currently finalizing operational arrangements for the June Bank Holiday and this will be communicated within the next 24 hours, to provide an improved passenger experience for all those departing from Dublin Airport this weekend. -end.
Ministers stressed the importance of restoring passenger confidence in Dublin Airport. The DAA said it would continue to engage with ministers on a daily basis.
Back to normal
It comes as scenes at Dublin Airport last weekend are replicated across the travel industry as the sector experiences a 'real challenge' to get back to normal, according to Paul Hackett, chairman of the Irish Travel Agent Association.
In an interview on the Pat Kenny Show on newstalk, Mr Hackett said recruitment and retention issues are key not only in the travel industry, but also in hospitality.
"We hear ads on the radio for jobs in tourism, for jobs in insurance. It's in all sectors.
"It's a huge challenge, and it's a consequence of what's happening after the pandemic in terms of effectively shutting down those sectors for two to three years."
Mr Hackett said that in a normal year, travel agents would have bookings on file from the previous year. However, that didn't happen in 2021 and now agents are getting a flood of bookings.
"The big change for this year is last minute booking. People are making decisions within four to six weeks of travel to travel overseas. We think part of that is down to what's going on. passed with Ukraine at the end of February with macroeconomic problems related to cost and inflation and consumer confidence.
"Consumers have been slow to make that final decision, but they haven't been able to travel for two years. Some people, as you say, have accumulated savings. The offer in terms of airlines and accommodation in the destinations has returned to normal levels."
Mr Hackett added that the DAA appears to be moving towards providing insurance for the coming weekend.
Avoid traffic jams
"They're not going to be content with what happened on Sunday. It was chaotic. No one said otherwise. Every DAA member I've spoken to or heard from in the media has acknowledged that they were absolutely at fault, and they must do better.
"We cannot have this for Irish holidaymakers leaving the country or for visitors to Ireland returning to their country. We cannot prevent travel in any way."
He urged customers not to show up at the airport too early to avoid traffic jams.
Meanwhile, Kevin Byrne, a retired Lt. Col. and auditor of airport safety and security, said a number of airports in other countries were experiencing similar issues to the airport. from Dublin.
"It's really a global phenomenon. We have problems in Frankfurt, Gatwick, Schiphol and a whole host of places. We have airlines like EasyJet canceling flights. Unfortunately, here we have a problem that s took to the streets.
"The DAA are very good at what they do. Unfortunately, they collapsed last weekend.
"If you have people whose jobs can wait a while in the general management offices, you bring them down, and they can help and help in an emergency.
He said it is "not acceptable" for a quality Dublin airport to collapse for things like screening. Mr Byrne said 'You know exactly how many passengers have to leave.