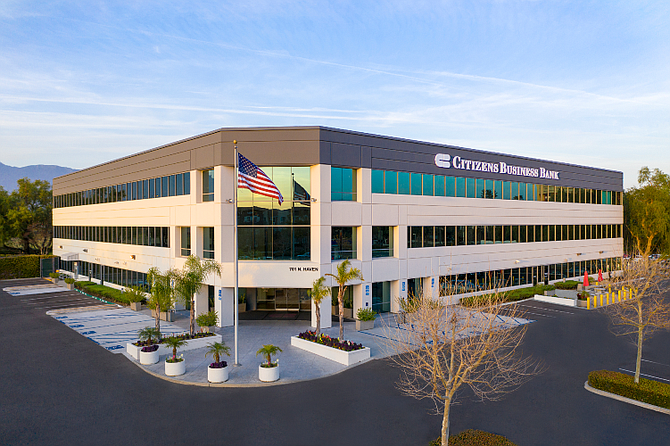 CVB Financial pays $ 204 million to Visalia-based Sunscrest bank
Ontario-based CVB Financial Corp., the parent company of Citizens Business Bank and a major player in Los Angeles County, has agreed to pay $ 204 million in stock and cash for a central valley bank in California.

The acquisition marked the second banking consolidation in the Central Valley region by a California bank in late July.
CVB's merger with Visalia-based Suncrest Bank will bring the company's total assets to around $ 17 billion.

David Brager, chief executive of CVB Financial, said the purchase of Suncrest is his bank's second largest acquisition.

He described the Central Valley as "an important and important new market for Citizens Business Bank which presents significant opportunities for growth in the future".
Although CVB Financial is headquartered in San Bernardino County, 21 of the company's 58 branches are located in LA County. And 42%, or $ 3.4 billion, of its total outstanding loans are made in Los Angeles.

The bank also said that about 42.4%, or $ 5.6 billion, of its $ 13.2 billion in total deposits, came from LA
The transaction strengthens CVB Financial's presence in the breadbasket region of California and extends the bank's presence north to West Sacramento.

In an interview, Brager said CVB Financial's strategy is to stay focused on acquisitions in California, where it is listed as the ninth state-headquartered commercial bank.
"Our strategy is to remain independent at this stage and to develop the bank in a measured way," said Brager.

Suncrest Bank adds approximately $ 1.3 billion in total assets to Citizens' balance sheet, along with $ 900 million in outstanding loans and $ 1.2 billion in deposits as of March 31.
Suncrest has seven branches and two loan production offices throughout the Central Valley of California.

The transaction is expected to close in Q4 2021 or Q1 2022.
In a presentation to investors in July, CVB Financial outlined several areas of growth opportunities, including through acquisition, organic growth within its existing network of 58 branches and bank branches from scratch into new markets. .
CVB Financial said as recently as July in filings with the Securities and Exchange Commission that it was looking to buy California banks with $ 1-8 billion in assets.

The bank has achieved a steady stream of acquisitions over the past seven years.
CVB Financial paid $ 903 million for Pasadena-based Community Bank in 2018, its biggest acquisition.

He also paid $ 70.3 million to Valley Commerce Bancorp, a company based in Visalia, parent company of Valley Business Bank in 2017; $ 41.3 million for the Oxnard-based County Commerce Bank in 2016; and $ 57 million for American Bancshares Inc., a Newport Beach-based company, parent company of American Security Bank, in 2014.

In its second quarter ended June 30, CVB Financial reported a profit of $ 51.2 million compared to $ 41.6 million for the same period of the previous year.

"As a confirmed acquirer, we expected the bank to return to the M&A arena for some time, where its first acquisition announced in the past three years is the second in its history and verifies all the boxes it previously set, "wrote David Feaster, banking analyst at Raymond James & Associates Inc., in a research note.
"It strengthens its presence in growing markets and fills the northern portion of its footprint well, including expanding into Sacramento but also deepening its existing footprint in Visalia and Fresno," he added.

The cultural fit also aligns well, given the "agricultural expertise" of Citizens Business Bank and Suncrest, according to Feaster.

Citizens Business Bank also recently hired a new chairman, Brian Mauntel, who will be responsible for overseeing the bank's 57 branches, the wealth management division and its specialist lending groups, including dairy, livestock and l agrifood.
For reprint and license requests for this article, CLICK HERE.