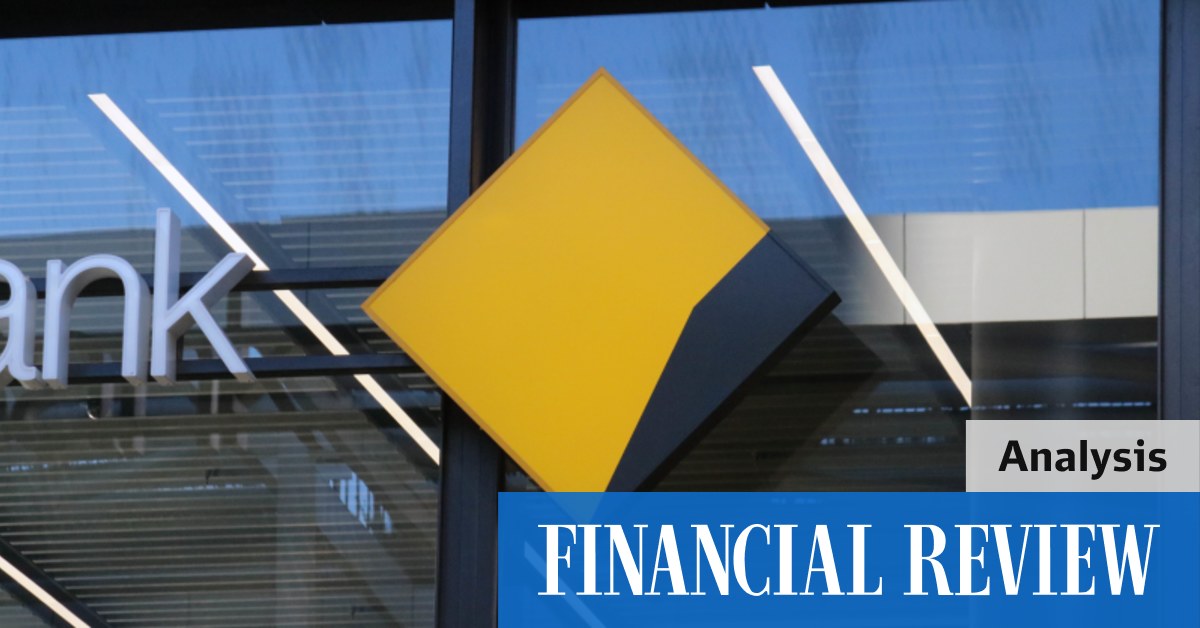 Commonwealth Bank's accounting change won't ease pressure on lending margins
The accounting changes relate to CBA's merchant banking and should not support NIMs in retail banking.
Bank stocks traded lower on Monday as margins continue to be squeezed by high prices across the industry as banks are locked in a battle for market share. (The NIM measures the difference between interest received from lending customers and what is paid out to savers, and provides a key revenue driver for banks.)
Higher loan volumes
Barrenjoey analysts estimate the first-quarter NIM decline at CBA was seven basis points and say the recent fixed-rate pricing revision would likely have had only a limited impact on the second quarter. The market expects the CBA NIM to decline 13bps in full year 2022, and three bps in FY23, before it stabilizes.
Analysts expect the CBA's net interest income in the first half of 2022 to be broadly stable in dollar terms, in line with November comments suggesting that the lower NIM is being offset by higher loan volumes. National data on credit to the private sector showed on Monday that annual growth accelerated to 7.2% year on year, the fastest pace since 2008, driven by growth in housing credit.
The extent of Westpac's margin damage will be revealed on Thursday, when it releases first-quarter results. It slashed prices to chase volume, but at squeezed margins, which made many analysts cautious about the stock.
National Australia Bank will release its quarterly results on Thursday next week, the day after the CBA's half-year results. ANZ, which industry sources say has also been aggressive in the hunt for volume, does not release quarterly figures.
The ABC's first-half results next week, and Westpac on Thursday, should also provide a reading of mortgage demand, which was strong before Christmas.
"Negative Jaws"
With CBA trading at a price-earnings multiple of 20.3 times, managing director Matt Comyn has high expectations to show that buying CBA is worth the premium.
"We believe investors expect CBA to use these advantages to protect market share without needing to price at the very sharp end of the competition," Barrenjoey banking analyst Jon Mott said. and Minh Pham, in a note last week.
At its annual results in August, the market worried about "negative jaws" (expenses growing faster than revenues) and higher CBA capital spending amid revenue pressures.
Earlier in January, Citi analyst Brendan Sproules said the slowdown in fixed-rate mortgages will continue in the banking sector in the first half of the year.
"Pricing pressures are moderating. However, the emergence of higher cash rates from the RBA will not create a sharp rebound in NIMs expected by many investors," he said. "Instead, we believe banks will continue to reinvest better deposit margins into higher mortgage prices."
Fixed rates on the rise
The market's bearish views on bank margins come as official interest rates are expected to rise this year, which should support NIMs by creating wider profit gaps for banks. According to industry sources, about half of all new mortgages are fixed loans.
Banks have already started lifting fixed-rate offers in the market to protect margins. Over time, more borrowers will revert to standard variable rates. But for now, many fixed rate borrowers will be exposed to a rollover shock when these loans expire as several interest rate hikes are expected during fixed rate periods.
In comparison, investment banking margins are holding up well.
The ABC said on Monday that its net interest margin would increase by five basis points over the previous two halves, to the end of June 2021 and December 2020.
The bank also confirmed an increase in its capital base thanks to the partial sale of Colonial First State to KKR, and an impact on its insurance income following the hailstorms last October.
Under Australian accounting standards, the CBA said fees on some of its products had been reclassified from "other banking income" to "net interest income", increasing net interest income for the half year to June 30. 2021 of $234 million and the NIM for this semester. at 209 basis points.
CBA also confirmed that its common equity tier 1 (CET1) capital ratio would increase by 32 basis points following the sale of a 55% stake in Colonial First State to KKR and $1.47 billion in profits would have been transferred to the group. This figure was revealed by CBA in December when it announced the closing of the transaction.
Savage weather last October, including hail and storms, along the east coast and in South Australia and Tasmania caused losses of $85 million in the half of December, pre- reported the bank on Monday.
The reclassification of commission income to interest income was not the only change the CBA made to reporting structures. He also flagged the transfer of some customers between retail banking, corporate banking and institutional banking, saying the changes "did not impact cash earnings, but will change balance sheets." of the respective divisions, they will therefore have to be taken into account in the bank valuation models. ".
Westpac, NAB and ANZ trade at the end of the financial year on September 30, while the CBA closes its books on June 30. ANZ stopped reporting quarterly results in 2018. Westpac also stopped providing detailed quarterly results, but since the pandemic has released key earnings trends for the period with its Pillar 3 update, due Thursday.