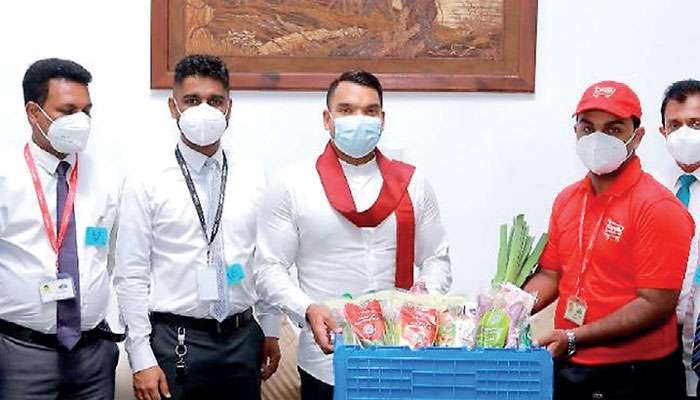 Cargills Online becomes the first e-commerce platform to integrate LANKAQR
From left to right: Prabhu Mathavan, Executive Director of Cargills Bank, Roshan Dilruk, Director of Online Operations of Cargills, Asanka Mahanama, Senior Director of Cargills (Ceylon), Minister Namal Rajapakasa, Cargills Online Delivery Agent Yohan Samuel, Deputy Governor of the Central Bank D. Kumaratunge, Director of Cargills Retail Director Asoka Pieris and Cargills (Ceylon) Managing Director – IT Sanjeewa Premawaradana
---
Cargills Online has become the first and currently the only e-commerce platform in Sri Lanka to integrate LANKAQR for delivery, providing greater convenience to its customer base along with a wide merchandise offering.
LANKAQR is a project initiative of the Central Bank of Sri Lanka to ensure that all QR codes and QR-based transactions in Sri Lanka are standardized and interoperable.
In a statement, Cargills said its online option has revolutionized the grocery supply chain in Sri Lanka. Cargills Online has the freshest and one of the range, offering convenient, hassle-free delivery where customers can order weekly groceries in less than two minutes. Deliveries are made efficiently by professional delivery agents with consistent on-time delivery. The dedicated customer experience team ensures increased customer satisfaction at all times. In addition to LANKAQR, Cargills Online also offers cash and cards on delivery and online payments.
Cargills Online is accessible through the app available on Android and iOS and the website https://cargillsonline.com/. Customers can use the mobile app or visit the website and select LANKAQR as the payment method.
When the Cargills team delivers the order, the customer can use any payment app to make payment using LANKAQR. Even if the payment option is selected as "Card on Delivery" or "Cash on Delivery", the customer can pay through LANKAQR once the goods arrive.
Namal Rajapaksa, Minister for Youth and Sports, Development Coordination and Monitoring and Minister of State for Digital Technology and Business Development, said: "Sri Lanka is currently experiencing a revolution as we aim to deploy the latest technologies so that we can increase financial inclusion in the country, strengthen trade and drive the economy to prosperity. I am delighted to see Cargills Ceylon coming to support us in this national effort. LANKAQR is one of these initiatives that we have conceptualized with the support of the Central Bank and LankaClear.A notable fact is that LANKAQR has been developed entirely using Sri Lankan expertise.
Central Bank Governor Ajith Nivard Cabraal said, "The Central Bank of Sri Lanka has introduced LANKAQR in partnership with LankaClear to accelerate Sri Lanka's journey to a cashless society while boosting financial inclusion. SMEs are the engine of the country's growth and it is important for us to give them all the resources and support necessary to achieve their full potential. I thank Cargills Ceylon for partnering with us to bring this technology to their vast island customer base. »
Asoka Pieris, Managing Director of Cargills Foods Company, said, "Cargills continued commitment and passion to improve the lives of all Sri Lankans has led us to Cargills Online and enabled customers to continue shopping at them while enjoying the supermarket experience. By integrating LANKAQR, our valued customers will have even more flexibility when it comes to paying for their goods. We are proud to be the first and currently the only e-commerce platform in Sri Lanka to integrate LANKAQR for delivery.
LANKAQR was introduced by the Central Bank in collaboration with licensed financial institutions and LankaClear Ltd. with the aim of moving Sri Lanka towards a less liquid society and increasing financial inclusion across the country. LANKAQR enables customers to make payments, directly from their bank accounts to merchant or service provider accounts, using payment applications from LANKAQR certified financial institutions. LANKAQR is a low-cost digital payment solution, which primarily targets small and medium-sized enterprises (SMEs).
Cargills Bank Managing Director/CEO Senarath Bandara, Cargills (Ceylon) Group Vice Chairman/CEO Ranjit Page, Deputy Central Bank Governor D. Kumaratunge, Governor Ajith Nivard Cabraal, Cargills Online Delivery Agent Yohan Samuel, Cargills (Ceylon) Director General – IT Sanjeewa Premawaradana, Senior Director – IT Asanka Mahanama and Online Operations Director of Cargills Roshan Dilruk
---