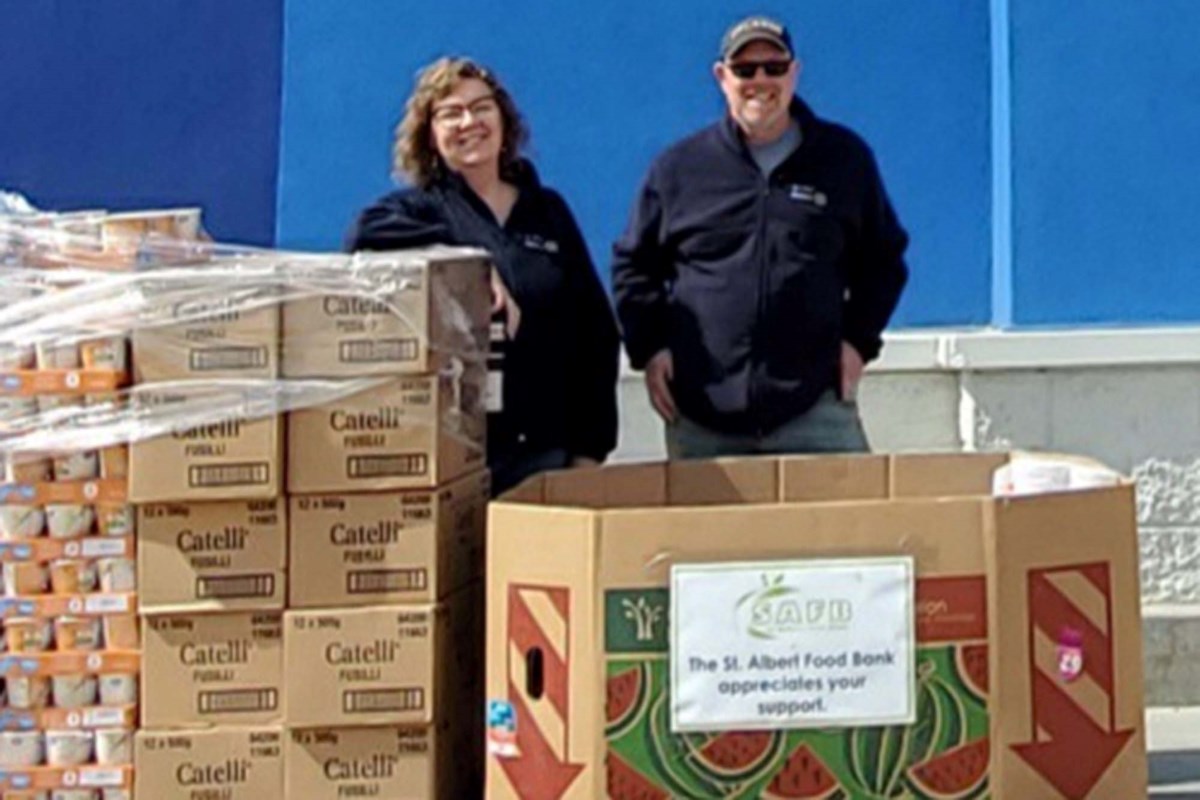 At your service: the food bank gets a boost thanks to the spring collection
Kaleo Collective saw a record number of children participate in its Mother's Day event this year.
Think of it as a surprise spring bounty to help stock shelves for the summer months ahead.
Service clubs always work to serve the community and meet its greatest needs, although they usually do so separately from one another. When they work together, however, you already know it's going to be a big hit and make things better for many residents.
The second annual food drive blitz on April 30 was sure to bring a bumper harvest to the St. Albert Food Bank. When the tally was made from that and the collection made at the AMA's public shredding event, there were over 2,700 kilograms of food and nearly $7,000 in monetary donations.
The campaign was a combined effort of the St. Albert Breakfast Lions Club and the St. Albert Host Lions Club, ACT/UTC Council 1024, the Africans & African Descendants Friendship Club of St. Albert, the St. Albert Cosmopolitan Club, as well as the Rotary Club of St. Albert, the Saint City Rotary Club and the Rotaract Club of St. Albert. Together, they increased their consumption from last year's inaugural event by setting up collection points at local grocery stores, as well as at the Red Willow Community Church on Saturdays only. Service clubs have also challenged themselves to help increase donations.
"We are blown away by the generosity," the food bank responded on social media.
More help on the way
Fit + Fierce is back with its strident push for another food bank boost. The Girls' Wellbeing Program hopes to collect and deliver approximately 1,500 kilograms for the St. Albert Food Bank as part of the program's annual contribution component which also focuses on mental wellbeing, fitness, nutrition and mentoring.
"The girls support the food bank with food donations every two weeks from September to June each year," said program co-facilitator Kelsey Vickers.
"Every year the girls are getting more and more excited about it. At each session, they are happy to weigh the food because they understand the impact it has. A lot of our girls come back, so it becomes a big problem for them.
The goal of the program is to teach girls that giving back isn't just good for the community; it's also good for their mental health.
Vickers said the food bank was "suffering" and needed all the support it could get. Fit + Fierce wants to amplify the effort by involving more people.
To that end, she's issued a friendly challenge to everyone to donate to local grocery store collection bins to match the Fit + Fierce effort.
"If we could just knock it out of the park for them, that would be amazing."
Look for a long line of basket helpers carrying their donations in their backpacks as they make their way from Bellerose Composite High School to the St. Albert Food Bank in the early evening of May 19. There will be more than 100 girls in the humanitarian procession.
I love you mom like never before
A record number of children participated in Kaleo Collective's seventh free flower shop for Mother's Day, titled Love You Mama. Five hundred young smiling faces came to Londonderry Mall over the weekend to create personalized bouquets and choose gifts for their mums on their special day.
"Giving a gift is a simple yet powerful act," founder Layna Haley said in a statement. "For a child, being able [to] giving mom a gift they have chosen is a lasting memory. The faces of the children beam with pride, the mothers are moved to tears. It's a beautiful and meaningful experience for everyone, especially on Mother's Day, when single moms often do all the work or forego the hassle.
The local charity that supports single mothers recently saw an "unprecedented increase in the number of children". Anyone who wishes to help offset the costs of the unexpected increase in the number of participating children can always adopt-a-mom for $50. Donations can be made at kaleocollective.ca.
Goodwill's first birthday present is paper
It was a banner year for the new Goodwill Thrift Store, culminating in Mayor Cathy Heron celebrating the anniversary by proclaiming May 1-7 Goodwill Week.
At the same time, representatives of the charitable enterprise that supports Albertans with disabilities through employment programs matched the money with two donations for the Rotary Club of St. Albert. The first was a sculpture of the Rotary Club logo designed by Dave McCauley of Wetaskiwin. The artist created the piece using forks and spoons donated by Goodwill.
Goodwill also offered a monetary donation of $2,112 to the service club to help in its efforts to give back.
The community has provided 12 months of strong support for Goodwill by generating over 25,000 donations, with 90% of proceeds going directly to its mission services to help people with disabilities find and secure meaningful employment.
The gift exchange took place the last week of April. The Goodwill Thrift Store and Donation Center is located at 730 St. Albert Tr.
EMCN needs space
The Edmonton Mennonite Center for Newcomers is desperately looking for new donation center space to meet an expected increase in demand from Ukrainian refugees and all other newcomers to Edmonton. Currently, his center is feeling the cramp with "a mountain of donations tumbling from above".
The center has always been used to provide language training to immigrants and newcomers, but now many of these rooms are overflowing with donations as a limited staff tries to sort, organize and disperse them to refugees who arrive without nothing.
The center is desperate for inexpensive or free space for a new coordinated donation center that could serve anyone in need of household items, clothing, furniture and emergency supplies. It also needs additional funds to continue operating, as its current funding expired on March 31. As Edmonton becomes a hub for refugees from Ukraine and many other parts of the world, and overdue immigrants arrive in Edmonton in large numbers, the center may no longer meet all of the refugee needs for items and incoming immigrants without more financial support.
"Our city needs a permanent home for donations for refugees, emergency victims and others who need a fresh start. The Refugee Donation Center in [the centre's] creating language classes is only a start-up operation until a more permanent solution is established. We felt we had to do something to fill the service void left in our city when the Edmonton Emergency Services Society was forced to close in August 2021," said Megan Klein, Director general of the center in a press release. "There is a critical need for this service…" she continued.
"When refugees arrive in our city, they will have to dip into their very small resettlement allowance for these items. New arrivals fleeing the crisis in Ukraine do not even receive a standard refugee allowance because they are not designated as refugees when they arrive under the Canada-Ukraine Emergency Travel Authorization Program (CUAET) Without access to unlimited supports like [Edmonton Emergency Relief Services Society's] donation center for refugees, many vulnerable families will simply go without basic necessities.
People can donate to the organization by visiting its website at emcn.ab.ca/donate. To donate goods or volunteer, call 780-423-9524.